Posted by Up with People on September 25, 2019
Guest Post by Theresa MacNeil, Assistant Professor at Florida Southern College & Study Abroad Professor for Up with People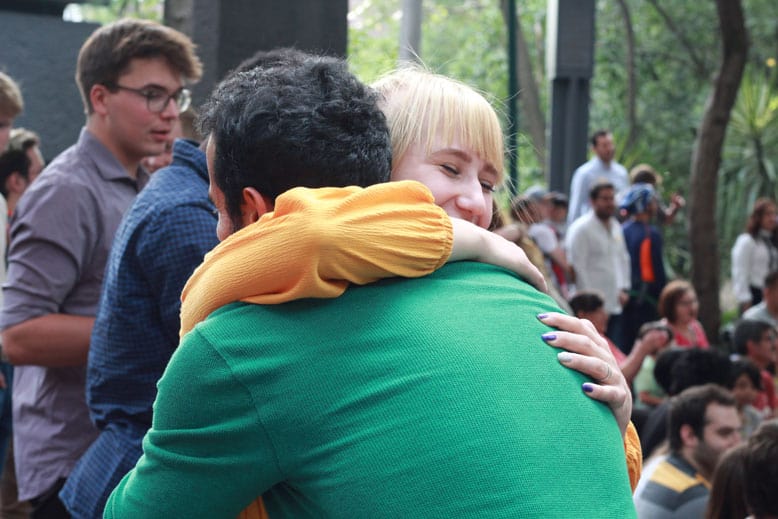 When students look for an opportunity to explore the world, many seek out study abroad opportunities for a semester or even a full year. Up with People added the study abroad programs with Florida Southern College to work together to help young people experience life in meaningful ways. Experts say that having good communication and interpersonal skills are two of the most important skills potential employers are seeking in job candidates. Communication skills are vital for a successful life, both personally and professionally.
In our communication classes, students will learn about the importance of interpersonal communication in both large and small groups. They will also learn about how to effectively deal with conflict in their lives, while also being aware of cross-cultural differences around them. Specific skills they will learn include active listening, emotional intelligence, and management of emotions. They will also learn about leadership, dealing with families and romantic partnerships, as well as how to translate communication from one person to a small and large group, and also how to manage communication cross-culturally. 
Gap Year Programs Abroad
The unique aspect of the Up with People study abroad experience is that the students are able to live out the concepts they learn while traveling. They are able to take their new skills out of the classroom, and into the real world. It is a "next step" for the Up with People program and acts as a "full circle" moment. It takes everything that is learned throughout the program and begins to make sense through theories and concepts. 
For example, while living with host families and in different cultural settings, students are able to process their own cultural filters and place themselves in another person's shoes. They are able to see different perspectives and understand that they don't necessarily have to agree with everyone they meet, but they can respect them and agree to disagree, remembering the humanity between all people. 
Study Abroad in Up with People
Indeed, many of our students are able to understand their experiences better by being enrolled in study abroad courses. They have told us that their overall Up with People experiences have been richer and more beneficial by taking the study abroad classes, than if they hadn't taken the courses at all.
"Everything plays a specific role. I wouldn't be the person I am today or learned the lessons that I did if anything had been different. I'm so grateful for all of the hard lessons I've learned through every uncomfortable experience and wouldn't change a thing." 

– Ivy, Study Abroad Student in Up with People, 2018 – 2019
As their professor, I am proud to say that I see the growth of the students every semester. They start off curious and uncertain, but they end up more mature and more self-assured.  It is something I will never grow tired of seeing. The study abroad program is special and it only adds to the entire Up with People experience. It's a great addition for someone who is really interested in taking their learning in Up with People and as a whole, to the next level. 
Theresa MacNeil is originally from Philadelphia, Pennsylvania. She graduated from Boston College in 2004 and pursued a career in entertainment public relations before she went back to graduate school. Theresa is currently working towards her Ph.D. in Communication Sciences/Mass Communication from the University of Connecticut.
It's a wide open world
through another one's eyes.
It's the everyday people,
the stories that they bring to life.
Through Your Eyes © Up with People
Topics:
Study Abroad
Up with People is a global education organization which aims to bring the world together through service and music. The unique combination of international travel, service learning, leadership development and performing arts offers young adults an unparalleled study abroad experience and a pathway to make a difference in the world, one community at a time. Click here to learn more about the internationally acclaimed program, Up with People.
Comment On this Blog Below: