Posted by Up with People on October 8, 2018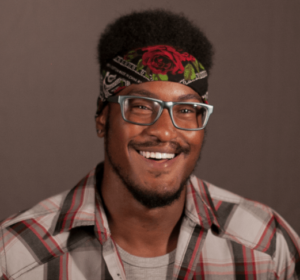 Denver local, Stephon Matthews, came to know about Up with People (UWP) through a local African American leader, Toi Massey. Toi believed Stephon could excel and contribute to the international cast through his performance talents, specifically through dance. This 24-year old was working and volunteering as a dance and fitness instructor when he interviewed for the program.
Stephon worked hard for months to set aside money to fund his tour and rally his community of support. The realization that his dream would come true came after a showcase fundraising event that featured collaboration with the organization, Same Side, as well as a dance interpretation of his own life experiences. In addition to his own efforts, Stephon was also supported by a group of local African American leaders who have united to form the Up with People African American Recruitment Committee (AARC). These dedicated individuals leverage their collective influence and provide fundraising assistance and personal mentorship to UWP applicants within the Metro Denver community. The AARC mission is to encourage young people and expand their world view by joining UWP.
Stephon was recently asked what advice he could give others as they embark on their UWP journey. He said, "Be open to anything, don't limit yourself to anything, and challenge yourself. In doing whatever scares you, whatever you fear, we better ourselves and our expectations of ourselves. Beyond that fear comes great accomplishment. Up with People has helped me get out of my comfort zone. I've learned to speak in front of large crowds, which was something I had trouble with before. It forced me into uncomfortable situations and I learned through active experience. I hope I can encourage people to take the roles that they want, and be supportive enough to make them feel comfortable in this environment. In acting as a role model, I want to lead the cast to develop a cohesive and supporting place where people can pursue their ambitions without fear of failure."
This summer, while on break between his first and second semesters with the UWP program, he worked as a camp counselor for Up with People Jr. in both the Firestone, CO and Denver communities. The UWP Jr. camps are held for one week in locations all over the world, and offer a performance-based, cross cultural experience for 8-12 year-olds.
UWP Jr.'s Colorado Regional Director, Lindsay Adams, commented, "Stephon fit the bill in every way and far exceeded my expectations as an Up with People Jr. staff member. Living more than an hour away from both camps meant Stephon's mornings started very early in an effort to catch a bus and a ride to camp. He arrived every day on time with an attitude of gratefulness to be part of this special project. Stephon has a quiet way with children and found his way toward kids that had a harder time initially fitting into camp. He was quick to make sure everyone felt included and was often found playing with and mentoring the kids during every recess and lunch break. The thing I was most struck by, in all my interactions with Stephon, was his willingness to see his challenges in a positive light. Things that most of us would typically complain about, he has a way of turning it around and not making a big deal out of it. He must have said at least ten times in the course of the two weeks we worked together how happy he was to be there. And he was. He made a huge difference in the lives of the campers, families, and staff."
Stephon continues to bring his special brand of humility and grace with his contributions to Cast B 2018. As a leader both on and off the stage, he continues to seek out opportunities to grow and challenge himself. In addition to his busy performance and rehearsal schedule, he has taken on an internship with the marketing and promotion department, and is often seen at media outlets, festivals, fairs and service clubs, helping keep hope alive and spreading the peaceful message of UWP.
UWP has a robust scholarship program and many participants are able to qualify for various scholarships and grants. It is through the generosity of donors and alumni who contribute to these funds that this amazing and talented young man can share his unique journey, perspective, and insights. Stephon's story is one of courage and commitment, tenacity, and triumph. Investments in individuals, like Stephon, keep the legacy of UWP alive in the sparks of hope and the trail of impact they leave in communities worldwide.
UWP's Associate Enrollment Director, Shawna Reed, noted, "I distinctly remember telling him that in six months, he'd be standing in some remote corner of the world beside people whose cultures and countries he'd only read about. It's students like Stephon who make me grateful for the opportunity to see in them what they can't always see in themselves. His perspective, his insight, and his day-to-day contributions to Up with People as a mentor, leader, and friend have made him an integral part of the Up with People legacy."
Topics:
"On The Road"
Up with People is a global education organization which aims to bring the world together through service and music. The unique combination of international travel, service learning, leadership development and performing arts offers young adults an unparalleled study abroad experience and a pathway to make a difference in the world, one community at a time. Click here to learn more about the internationally acclaimed program, Up with People.
Comment On this Blog Below: