Posted by Up with People on June 10, 2019
On this week's Meet the Cast Monday, meet James from South Dakota and the lighting technician for Up with People. His internship in the program helped him gain new skills towards his future career. See what he has to say about his experience in the program.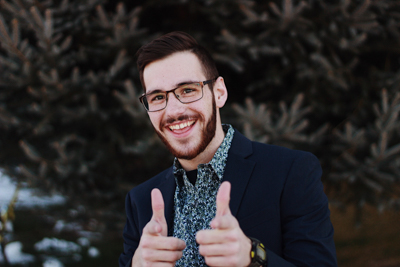 What did you do before joining Up with People?
"Before Up with People, I was in high school where I competed in speech and debate, participated in show choir and in plays, and always found ways to keep myself busy in after school activities."
What is an issue you're passionate about?
"I educate myself in politics involving different political systems, especially in the United States. I'm extremely interested in bettering our political system and finding ways where we can find compromise between the divide."
What's something valuable you've learned from your Up with People experience?
"I've definitely learned how to be open to new experiences, new foods and really new anything. The program helped me get out of my comfort zone into my challenge zone so I can have the ability to conquer anything that life brings me. I also value everything I've learned throughout my internships in lighting, sound and tech. It's what I want to do with my life and the experience I've gained in Up with People is extremely beneficial for exactly that.
What is a quote you live by?
"'It's okay if you fall down and lose your spark. Just make sure that as you get back up, you rise just as the whole damn fire.' I think to believe that you are always on top of whatever you want to achieve, you will only set yourself up for frustration and failure. But if you can recognize that there are going to be times where you fall down and accept that it's perfectly okay, you'll be ready to get back up and give it everything that you've got."
How did your internship help you with your current position?
"My internship is what taught me enough to be able to get into working as the lighting technician for Up with People. I knew that I wanted to pursue theater production after traveling in the program, so I tried to learn all that I could. I was able to learn from someone that was very knowledgable in the field. He allowed me to go to him with almost any question to either be given the answer, or be able to find the answer."
What advice would you give to people who are considering to join Up with People?
"There are many different reasons to join Up with People and there are many different programs that you can join. To me, Up with People is an all encompassing organization. If you love to perform, if you love to do service, if you love to meet new people or gain new experiences, it wraps it all into one amazing program. Even if it's something you might not necessarily love, there is so much of the tour that is still for you. Plus once you start traveling, something you may not have loved before will all of a sudden become the reason why you're still traveling and why you want to continue to travel."
"Life was knocking at his door, sayin'
Open up to so much more
Raise your hand, Take a stand
Come on and see
The truth should set you free
Who will you be?"

Who Will You Be? © Up with People
Topics:
"On The Road"
Up with People is a global education organization which aims to bring the world together through service and music. The unique combination of international travel, service learning, leadership development and performing arts offers young adults an unparalleled study abroad experience and a pathway to make a difference in the world, one community at a time. Click here to learn more about the internationally acclaimed program, Up with People.
Comment On this Blog Below: