Posted by Up with People on September 13, 2019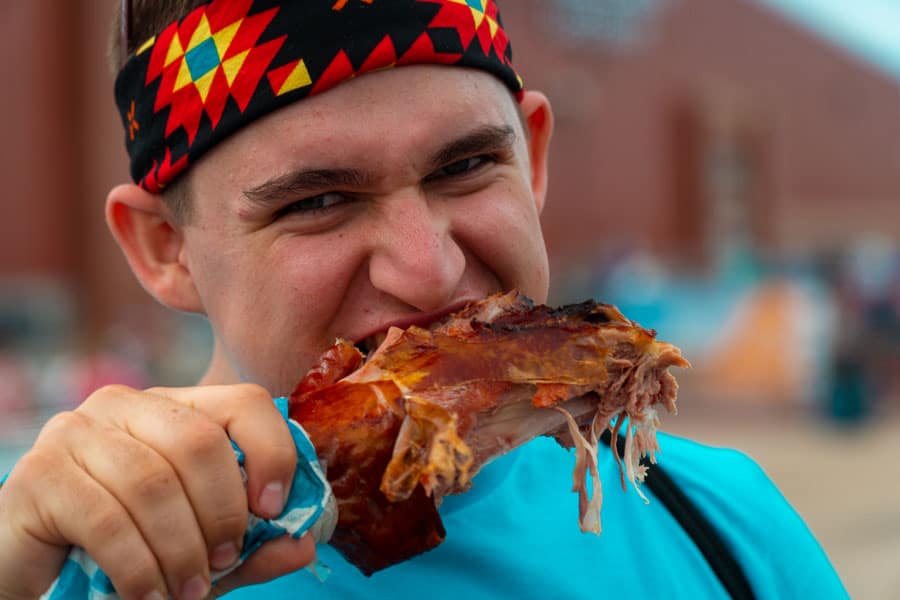 Who doesn't love Southern comfort food? It's comforting for the body, and amazing for the soul. Travelers in Up with People have been in Lafayette, Louisiana this week and will be in Ruston and Shreveport for the next two weeks. That means they will have three full weeks of experiencing truly delicious comfort food made with the hands and hearts of Louisiana natives.
Here are some of the sumptuous treats that are some of the signature Southern comfort foods found in Louisiana.
Jambalaya
It may seem simple, but perfecting a jambalaya dish takes serious skills. Whether you are wanting it Creole or Cajun style, you can find it beautiful Louisiana. It originated in New Orleans, like many of these southern delicious meals you'll find to be incredibly popular. Jambalaya was the Spaniards' attempt at making their own paella (another famous rice dish), but since they didn't have saffron to complete the dish, they replaced it with tomatoes. Now both recipes can be found at many restaurants, especially in the French Quarter of New Orleans.
Beignets
Carnival food has nothing on beignets, a fluffy fried-dough pastry covered in powdered sugar. It is typically served in the shape of a square and comes in orders of three. Take a bite of these mouthwatering treats and you'll be wanting a second round before you know it.
Crawfish Boil
For anyone that has visited Louisiana, you'll know that the crawfish boil is not for the faint of heart. They're filled with spice that will make your forehead sweat. You'll find the best of the best in Cajun country, Lafayette! Head to the local seafood market to get a taste of these spicy cajun fish. Don't be surprised if you get a little messy. Crawfish are meant to be thrown onto a table and eaten with your hands and are much more enjoyable with a group of friends or family.
Gumbo
Served in a large pot, gumbo begins with a roux, a flavorful combination of flour mixed with butter, oil or bacon fat, followed by the 'holy trinity' (onions, bell peppers, and celery). Whether you want seafood, chicken, or sausage, you'll quickly see that a customizable dish like gumbo will warm your belly. Southerners take pride in their gumbo so make sure to savor every bite!
King Cake
We can't skip out on desserts that fast. During Mardi Gras season, you'll find nearly everyone in Louisiana eating their fair share of king cake. You won't just find them on the streets of New Orleans either. You can get your king cakes anywhere food is sold, such as  bakeries, grocery stores, gas stations, and food trucks. Look out on the streets for this purple, green, and yellow treat!
Pralines
You can thank the nuns for these. It's believed that pralines were brought over from France by the nuns who came to New Orleans in the 1700s. These pecan candies are cooked in a kettle and made with a copious amount of brown sugar. They have the perfect crunch to curb your sweet tooth.
Boudin
Boudin is definitely for the meat-lovers. It's a combination of spare pork parts that are mixed up with rice, various spices, and stuffed into a casing served in links or boudin balls. The casing is thick and chewy, so be prepared to squeeze out the middle filling. If you like fried food, boudin balls are a deep-fried variation of the boudin links.
New Orleans has had a significant impact on the culture of southern food throughout the state of Louisiana. No matter what city you are in, you'll find classic dishes made with pride by the people who love their state the most.
"Where all the old stories and centuries converge,
Today and tomorrow where hopes will emerge,
It's in the music and words, Festa Humana."

Festa Humana © Up with People
Topics:
Insider
Up with People is a global education organization which aims to bring the world together through service and music. The unique combination of international travel, service learning, leadership development and performing arts offers young adults an unparalleled study abroad experience and a pathway to make a difference in the world, one community at a time. Click here to learn more about the internationally acclaimed program, Up with People.
Comment On this Blog Below: