Posted by Up with People on November 7, 2017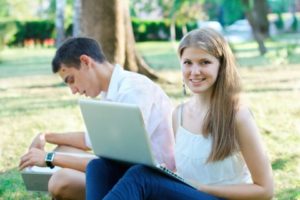 In today's competitive job landscape, an internship or assistantship may offer you the opportunity to stand out from the crowd. From professional networking to time management and teamwork, internships allow you the time to explore your passions and gain valuable skills before making an important career decision. While touring with Up with People, our cast members have the opportunity to not only learn about other cultures through singing and volunteerism, but also prepare for their professional careers through interning. Our internship and assistantship programs can help advance your resume and start/expand on your work experience.
We host three rounds of internships and assistantships during one tour. Each session is five weeks long. Whether it's an internship or assistantship, students learn about different positions on staff, shadow staff in certain departments of interest, and help us with the tour experience. The difference between the two programs is the kind of work being done.
TASK-ORIENTED ASSISTANTSHIPS
If a cast member is particularly interested in helping with specific tasks such as lighting for shows, sharing news with local media and online followers, or greeting guests at performances, an assistantship is the way to go. Assistantships offer opportunity for skill building through task-based work. They are the responsibilities that help the program run smoothly, like through working on the costume crew or as a spotlight operator or volunteer site crew leader. Assistantships allow you to try out a variety of different activities.
Most cast members even complete multiple assistantships if they choose. With 35+ positions each round (that's over 100 positions during the tour!), there are many ways to customize your Up with People experience through choosing assistantships. Assistants are selected by staff from a list of interested cast members.
IN-DEPTH, CAREER-SPECIFIC INTERNSHIPS
Cast members interested in a career-specific internship submit a short written application, explaining why they want to do the internship and provide examples of skills they have that will benefit a specific role. If select, they will work one-on-one with a staff member to set goals for the internship, work to achieve those goals with the help of staff, and review their performance at the end of the program.
We offer 10-12 internships per round, with about 30-40 opportunities in the tour. Interns shadow a staff member working in their area of interest, learn the ins and outs of the position, and help complete tasks along the tour. Cast members who complete an internship can also do an assistantship if they choose, but it is rare for an individual to complete two internships given the high interest and the limited number of positions.
SECOND SEMESTER CAST MEMBERS STRIVE FOR INNOVATION
We love when cast members tour with us for an entire year! In addition to the chance to complete another internship or assistantship during their second semester abroad, we also focus on innovation with our second semester cast members. We want them to help us enhance our organization and programming.
So, during the first five weeks, when new cast members are going through orientation, members in their second semester help set goals and work on leadership development with staff. They work with a staff coordinator to set a guide for second-semester learning and look for additional service opportunities.
Whether it's learning a specific job through an in-depth internship, helping the crew hands-on through a task-oriented assistantship, or working with staff to better our organization, we encourage you to take your study abroad experience to the next level. You won't regret it.
Topics:
Study Abroad
Up with People is a global education organization which aims to bring the world together through service and music. The unique combination of international travel, service learning, leadership development and performing arts offers young adults an unparalleled study abroad experience and a pathway to make a difference in the world, one community at a time. Click here to learn more about the internationally acclaimed program, Up with People.
Comment On this Blog Below: