Posted by Up with People on August 17, 2017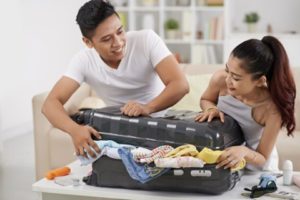 Planes, trains, automobiles, changing climates and new cultures – like nothing you've ever experienced before – are you ready for your life as a student traveling abroad? "Of course I am", you confidently think to yourself, until it comes time to figuring out what to pack for this experience of a lifetime. Leaving the nest for the first time isn't easy and it begins with making sure you're well equipped with clothes to wear. After all, this is more than packing for a week vacation at grandma's house.
LUGGAGE
Before you start washing and folding all your favorite clothes, you'll want to keep in mind the limitations you'll most likely encounter right off the bat. If your trip abroad is anything like ours, you'll need to plan for every season and fit it all inside a packed suitcase that weighs no more than 50 lbs. In addition, you'll probably be allowed to bring a piece of carry-on luggage and a back pack. It's more than enough space for a week at camp, and just a smidge limiting if you're leaving for 6-months or a year. When picking out the right luggage, remember that wheels are a good thing, your back will thank you later.
WHAT TO PACK
Now comes the fun part – finding a way to make everything fit. First, you need a strategy especially if you'll be experiencing changes of season. Misael Oliver, toured on multiple casts of Up with People over 2 years, logging thousands of miles in 8 countries. His advice is simple, "limit the number of unique pieces of clothing, and focus on the things you wear that are interchangeable." Good advice! In other words, lose that funky hat that you wear only to the Halloween party each year and make sure you have your favorite clothes you wear all the time.
Also, think of your wardrobe in terms of layering. For example, that favorite summer shirt is perfect in 90-degree heat and a nice base layer in the fall under a sweatshirt. And that lightweight sweater that's perfect in the fall is probably a solid base layer underneath a light weight coat in the colder months. For a complete packing list, this link will take you to the checklist we send to our first-year touring cast members. One more tip – if you're traveling to poverty-stricken regions, considering packing a few extra pieces of clothes you can leave behind; an old t-shirt to you may be a luxury for another person.
PACKING STRATEGY
If you're like me, organization and packing don't always go hand-in-hand. Well, when you travel abroad for an extended period of time, guess what? You're going to want to be organized. In fact, did you know you can even find Packing Organizers on Amazon? I know, right? Crazy. Here's a link to help you get your stuff together. What makes these little cubes magical is that you can keep your socks with your socks, underwear with your underwear and you don't have to hunt and peck to find stuff on the road. Awesome invention and it helps you save some time when you're on the move. Best of all, it reduces your stress levels!
If you don't have packing organizers, be sure to fold or roll your clothes neatly, rather than just tornado tossing stuff in the suitcase with reckless abandon. You'll be surprised how much more you can fit when you fold your clothes and organize them neatly.
Remember, you'll probably also be able to bring a backpack and a carry-on bag on the plane, so you'll have some extra storage options. Keep the obvious stuff in your backpack – phone, passport, water bottle, etc. Here's something else to consider – put a change of clothes in your carry-on or backpack. You never know when the airline might lose your suitcase and if they do, at least you'll have some clean underwear (which would make your mom happy too). To that end, throw in your toothbrush and toothpaste because after a day without brushing you'll swear your teeth have grown a sweater over them. And never pack medications, jewelry or other valuables in your checked luggage. If your suitcase is lost, it might have a hard time catching up to you when you're hopping from continent to continent.
Okay, are you ready? Probably not completely, but hopefully this gives you a head start on a few things you haven't considered. What tips have you picked up along the way? I'd love to hear your little pearls of wisdom when it comes to packing for a year abroad. Bon Voyage!
Learn More about Up with People
Topics:
Study Abroad
Up with People is a global education organization which aims to bring the world together through service and music. The unique combination of international travel, service learning, leadership development and performing arts offers young adults an unparalleled study abroad experience and a pathway to make a difference in the world, one community at a time. Click here to learn more about the internationally acclaimed program, Up with People.
Comment On this Blog Below: