Posted by Up with People on May 14, 2018
It's easy to get lost in the weeds of information out there about good parenting. At the end of the day we simply want what's best for our kids. As our children prepare for college, and enter the workforce it's easy to overlook soft skills that are critical to cross-cultural competence and communication. Developing a global mindset is extremely important in today's interconnected and globalized economies. But how do we raise a global child? How do we prepare our kids to be ready for the real world we live in? In the spirit of Mother's Day we asked the parents of Up with People alumni for their own tips on how to raise a well prepared global child.
Kerri Agusto is a Psychology Professor at Becker College. One of the core values of Becker College is the promotion of Global Citizenship. Kerri also happens to be the proud mother of Up with People participant Nate who is traveling the world with Up with People.
Kerri's Tips On Raising A Global Child:
It is well-known that the 21st Century worker is expected to be a "global citizen". However, the definition of "global citizen" is often so varied that it leaves parents at a loss. On one side is the very narrow definition that focuses on being multilingual. While this is a wonderful goal, in the US, where most schools teach in English and most children have the option of only a few years of French or Spanish education, fluency in more than one language is hard to come by without home immersion. On the other end of the spectrum is the ideal of relocating children to new cultures/countries for extended periods of time. The idea is that they can become "global citizens" by moving out of their comfort zones to be immersed in different cultures to acquire an appreciation for new ways of viewing and living in the world. But, this ideal is only available to the few very wealthy individuals who can get paid while living in different places around the world.
So how do the rest of us help our children prepare to thrive and lead in a global society? Kerri explains…
Perhaps the easiest way is by providing children with opportunities to serve others. Numerous churches, schools, and nonprofits around the country provide service opportunities for people in need. Often these people are in low-income situations, are homeless, are disabled, or are members of other marginalized groups. Another way to increase global perspectives in youth is to expose them to foods from different cultures, and to various religions, experienced through services at different places of worship. Young children can be encouraged to read fables from around the world, to listen to music from different parts of the world, and read nonfiction accounts of children and teens from around the world. As children get older, they can be encouraged to study courses such as "Understanding Diversity" or "Religions of the World."
But truthfully, no course or short-term experience can substitute for immersion in the sights, smells, sounds and tastes of a different country/culture. So if finances allow, children should be encouraged to embrace any and all opportunities for travel. Unfortunately, most of the time these experiences are for a week or 10 days on a cruise ship or perhaps with a tour group. Traveling to a new country on vacation is better than nothing, but when you travel as a tourist, you see the country through rose colored glasses. When possible, children should have opportunities to see the world through the eyes of its local inhabitants. Traveling with a service organization is one of the safest and surest ways to do this, as service groups typically avoid the pricey hotels and tourist markets and take advantage of lower cost opportunities with locals [host families] who are willing to share their homes or show-off their localities with the pride that comes from living and working in a place you call "home." Another opportunity comes from the chance to "study abroad" when in College. These semester long experiences can be challenging, but also rewarding (and often lower in cost than studying domestically!).
Personally, I have a child who was adopted from Cambodia. Before adopting him we took a class on international adoption and the take-home message was to allow our child to embrace his culture of origin even if we raised him as an American. As Nate grew, we brought him to Dragon Boat festivals in Lowell, MA, exposed him to wonderful Cambodian restaurants, and read him many fables from Cambodia and Thailand and Laos. He did not have much interest in any of this — or so we thought. But as he grew into his teens, he began collecting Cambodian flags and art. He was interested in news about his birthplace. And at 16 he expressed a desire to go back and see where he was born. We found a service learning group with a 3 week adventure to Cambodia and we gave this trip to Nate as a graduation gift after high school. When he returned he glowed with pride. He had experienced building a lavatory for a school in Cambodia, playing with the children in the school and seeing the great wonder of Ankor Wat and other temples. He shopped for foods in local markets and cooked traditional foods with the locals. His pride in the land of his birth was exponentially greater when he returned — as was his appreciation for the luxuries provided in his Massachusetts home.
Up with People is a natural extension of this experience for Nate. Nate's vocational goals are undecided. He is not one who enjoys school, and though he did well in the College classes he took (including Religions of the World!) while waiting to begin UWP, he was not enjoying it or finding a passion. Nate wants to serve others. He is not materialistic at all and wants for little. Money does not motivate him. What motivates him is helping others and being recognized and appreciated as a "good person." UWP gives him this opportunity. And hopefully he will find a way to turn this experience into some direction for his future.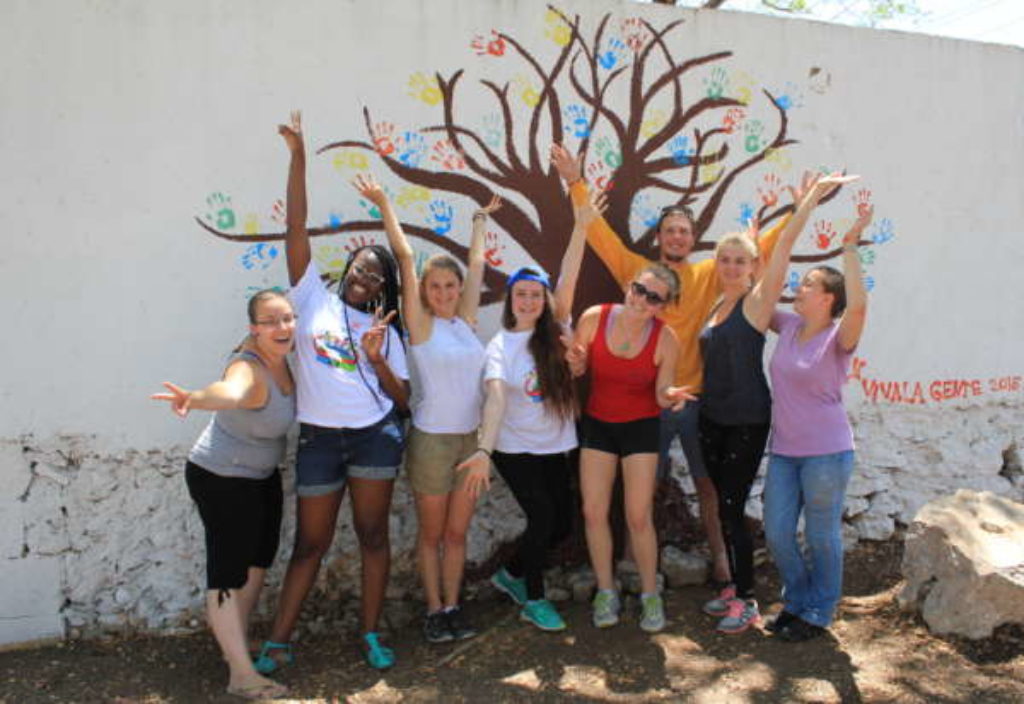 Perhaps the greatest benefit of helping our children become global children is to see them blossom and thrive.
Kerry says, "I am watching my caterpillar crawl out of his cocoon…. And what I'm seeing is an absolutely amazing butterfly getting ready to take on the world. That's what travel has done for my child. That's how UWP has impacted his life. Where he flies after this is anyone's guess. But I have no doubt he will land in many places and he will always bring with him a sense of curiosity and compassion."
Jill Wright had three kids travel with Up With People. When asked about raising a global child Jill had this to say…
"Our son, Cameron, traveled for a full year. He probably had the most impactful experience, as he was struggling with life at the time, and after seeing Kara's experience, we thought UWP could be great for Cameron. It was! He could not sing or dance to save his life, but toured as their drummer and loved it!
Cameron blossomed from a rather lost soul who had been fearful of travel to a global citizen, landing both education and stage internships, and returning home to reboot his college education with a fiery passion. His confidence soared, and he even led round table discussions with community leaders! Along with that, he now has some great friends in many different countries. I believe their experiences have shaped them to be more deeply invested towards others, and I am rather proud of them all!"
Happy Mother's Day and a special thank you to Kerri and Jill for sharing their stories!
Topics:
Gap Year Abroad
,
Study Abroad
,
Volunteering Abroad
Up with People is a global education organization which aims to bring the world together through service and music. The unique combination of international travel, service learning, leadership development and performing arts offers young adults an unparalleled study abroad experience and a pathway to make a difference in the world, one community at a time. Click here to learn more about the internationally acclaimed program, Up with People.
Comment On this Blog Below: