Posted by Up with People on November 21, 2017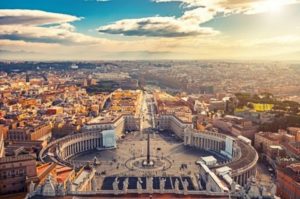 It's not everyday you get to perform for the Pope of the Roman Catholic Church, but that's what a group representing Up with People has the chance to do in December when they travel to Rome, Italy to perform on the stairs of St Peter's Basilica in front of thousands of people as part of the Papal Audience, the pope's weekly morning address.
"We know that it's exciting and a once-in-a-lifetime opportunity for our cast members," says Tim Lane, Vice President of Human Resources and Alumni Engagement at Up with People. "While Up with People is not a religious or political organization, performing on the steps of the basilica before Pope Francis and those in attendance is an extraordinary honor. It helps us get our mission across while providing an incredible experience at the same time."
INSPIRING THOUSANDS THROUGH MUSIC WITH MEANING
Our group will perform before Pope Francis begins the service. Songs will include an international medley, featuring "What Color is God's Skin?," an Up with People classic, and "Viva La Gente," our theme song.
Each Wednesday, to start the Papal Audience, the pope greets everyone in Italian, English, French, German, Spanish, Polish, Portuguese and sometimes other languages depending on groups that are visiting. He also gives mention to the visiting musical groups. The Papal Audience consists of small teachings and readings. At the end, he prays with everyone in attendance and blesses the crowd. After the address, Pope Francis will come down to the audience. It's up to him if he wants to shake hands or lay his hands on their shoulder. "It's quite an intimate opportunity," Tim says.
AN "EXPERIENCE" UNLIKE ANY OTHER
Among the thousands of people in the crowd will be Up with People alumni and eXperience program participants. We will have special seating at the base of the stairs, in front of those who have to stand behind a barrier.
Our eXperience program gives alumni and members of the public from around the world the unique opportunity to travel. When plans align just right, the eXperience program travels to a location on the touring cast's schedule. Trips are either funded by a sponsor or are paid for by the cast and eXperience participants. Our eXperience program has traveled to Manila, Cuba, Israel, Amsterdam, Paris, and Florence. This year's trip, December 3 through 10, welcomes anyone who performed in "The Journey," a show we launched in 2015. We often get parents participating in the eXperience program, too, because they want to see their child performing abroad.
Leonardo Guarnieri, an alumnus who traveled with Up with People in the 80s and now works with the Vatican, helps us plan trips to Rome when he can. We love having an alumnus who cares about continuing the success and excitement of our organization. While in Rome, he helps us gain special access to areas of historical sites that typical tourists are not allowed to visit. For example, among the tourist attractions our group will visit are the Colosseum, St. Peter's Square, Sistine Chapel, and the Roman Forum. The group is also traveling to Florence for a day to visit Uffizi Palace, see Michelangelo's David, and view the magnificent Il Duomo Cathedral and the famous Ponte Vecchio bridge.
"It's a pretty exciting trip," Tim says.
It is bound to be a memorable week of shows, community service, and touring.
Topics:
World Tour News
Up with People is a global education organization which aims to bring the world together through service and music. The unique combination of international travel, service learning, leadership development and performing arts offers young adults an unparalleled study abroad experience and a pathway to make a difference in the world, one community at a time. Click here to learn more about the internationally acclaimed program, Up with People.
Comment On this Blog Below: