Posted by Up with People on March 18, 2019
Meet Aaron, A Colorado Native and 1st Semester Traveler in Up with People!
Fun Fact: Aaron Plays Drums in Up with People & Is a Recent High School Grad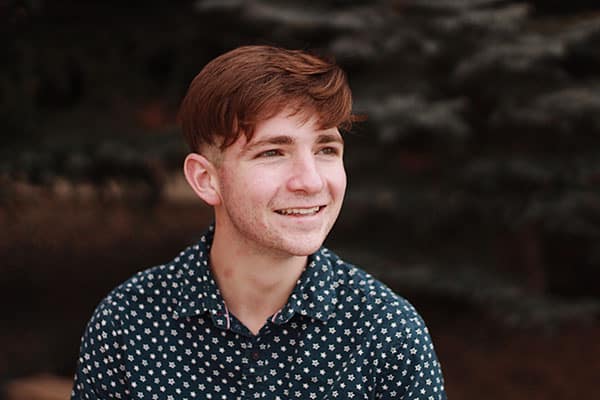 How long have you been playing the drums?
"I've been playing the drums on and off for the past four years. I used to play guitar for the band at church and we had a drummer who stopped attending, so there was just a drum set laying around. I started messing around on them. Then one day the music leader said, "Hey! Play drums this service." Luckily, all the songs were fairly easy, but I mostly learned just by playing with people."
What is it like being in the band for Up with People?

"It's been awesome. It has been so nice having a group of people to go to. I personally feel like it'd be harder for me to be in the larger group without the band as my base. Something I really appreciate is being able to play with people who are closer in age, since I've previously played with people where there was a bigger age gap. Playing with people in general is great, but being able to play with people who you connect with and can joke around with has been really fun."
Has your Up with People experience been what you expected?
"It's pretty similar to what I expected along with a handful of different experiences I didn't anticipate. I've needed a lot more energy and more time being "on." It's a lot more present then I normally am back home. Since I'm from Colorado, it's kind of like I haven't left entirely, but it's cool experiencing the places I haven't been to. It was my first time ever going to Greeley. I always thought of it being a small town like Winter Park area where I live, but it felt more like a bigger city. It was a nice college town."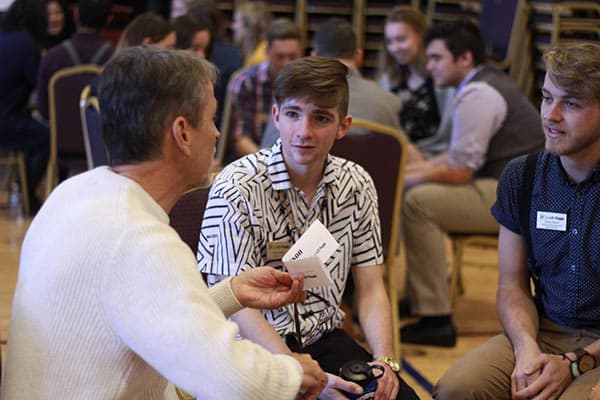 What's your favorite song in the show?
"I'd say my favorite song to play would be "Fingertip", which is a Korean pop song in the international medley. I think my favorite song in the show would be "Crossroads" because it hits home for me. I love the line, "We should be opening doors instead." The crowd always gives so much energy and you can feel it immediately."
Why should people travel in Up with People?
"It gives you so many more learning opportunities that you can't get anywhere else. There's a bit of routine, but even in that, there's so much new coming in and constant change that you don't get stuck in cycles. I've loved meeting all the different cast members, staying in host families, and just building all these different connections. Going to the elementary schools is great too because I get to see how small things can be so impactful to the kids there regarding things I normally don't think about."

What would you like to do after Up with People?
"I'm not entirely sure if I want to study in college yet, but I'm interested in psychology, physics, and recording arts. I might even become a monk. I appreciate the idea of simplifying life. I think it's important. Although my plan for a long time has been recording arts, I'd also say a big "out there" dream of mine would be able to connect psychology and physics, mapping out the different mental states and making it more of a tangible thing than just abstract concept."
"At this crossroads in time
There's talk of building walls again
Could we be opening doors instead?
Hearts have locks to be unfastened
Compassion is the key
To realize we are on the same journey."

Crossroads © Up with People
Topics:
"On The Road"
Up with People is a global education organization which aims to bring the world together through service and music. The unique combination of international travel, service learning, leadership development and performing arts offers young adults an unparalleled study abroad experience and a pathway to make a difference in the world, one community at a time. Click here to learn more about the internationally acclaimed program, Up with People.
Comment On this Blog Below: