It's so easy to choose your travels to be purely "vacation-focused:" staying at an all-inclusive resort, going to the spa, lounging in the infinity pool, going on a trip with friends to party and have fun, or with family to spend time together and so on. While all that is wonderful—I am not saying it is wrong—I think you might be missing something.
Hear me out…when you go on a vacation like that, do you ever feel like you missed out on seeing the culture, meeting locals, or getting to see what real life is like there? Or how about when the taxi or shuttle picks you up at the airport and takes you to your resort, and you drive by the poor rundown towns where kids are working trying to fill potholes, where moms on the street are sitting with their kids asking for money or for food, where you see kids walking long ways to get to school, or you see run down homes that people have to live in, etc. And maybe your heart aches a bit . . . and you think about it for a minute. But then, the car quickly keeps going, and you see the beautiful tall buildings lining the beach as the all-inclusive resorts hides you from reality: the unlimited drinks signs, the day trip adventures, and you simply forget about it. Until the day you leave, and you must drive past all those things again, and you're reminded of the reality these people live in.
Maybe you think to yourself…. I wish I could do something about it. Or… Dang, I never did something about that.
Well…I am here to tell you that you can do BOTH. Yes, both! It is called traveling with a purpose, and man, is it powerful! Not only do you get to see all the beautiful sights, new countries, cultures, try new food, and more, but you get to truly know the local people and get to make a big impact, something that will make people's lives better! And when you leave to go home after a trip like that, the feelings you have are amazing. You're sad to leave because you made genuine connections: you truly got to know the places you visited, and you left being able to say you made a difference! But the biggest and best feeling of all is knowing that you helped somebody else and made their life better. Seeing the smile on peoples' faces and the genuine appreciation they share is an image you won't forget. So, instead of using your privilege simply to get, you also used your privilege to give, and that is beautiful.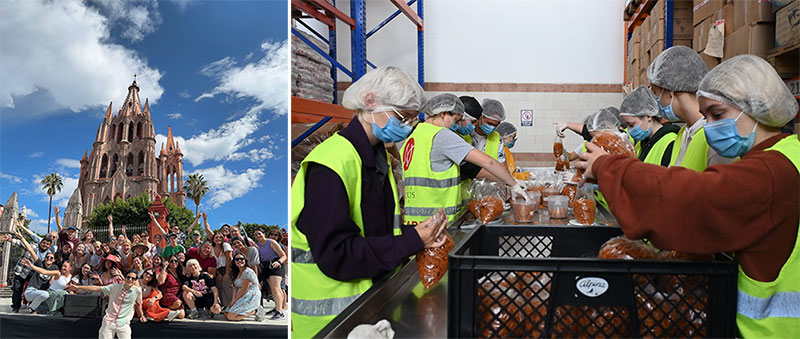 And I can tell you from personal experience, this type of travel is addicting… AND it is so easy!
There are so many companies and organizations who are leading travel experiences like this, all you have to do is look for them. Depending on your interests and passions, you are sure to find a travel program that suites you. Maybe even this awesome program called 'Voices by Up with People,' an international non-profit. This group travels for 3 months to different countries and lives with host families, does community actions projects in each city, has internal education on global competency and global issues around the world, provides mentorship and guidance in personal lead action projects on one of the 17 UN Sustainable Development Goals that you can take back to your communities at home, and even performs a show that shares music that is all about working together to make a difference, empowering youth and women, coming together as global citizens, and more. And the best part is, you don't even have to be a performer to join…we will teach you!

So, if you want to travel with an international cast to incredible countries around the world, live with local families, get to know the various cultures you will be immersed in, and make a huge impact in their communities, check out more here: https://upwithpeople.org/
As a previous student myself and staff member from the most recent tour in Latin America, where we were in Mexico, Colombia, and Costa Rica…. I can promise you won't regret joining this program!
Hopefully you learned a bit about a different form of travel. One that is not only more impactful and lifegiving, but one that is fun and full of adventure, and all about meeting new people and making new connections, learning about other cultures and the beauties they hold, and about making the world a bit better.
So, when you're planning your next trip…. think beyond a simple "vacation"—make that trip something more!!