Posted by Up with People on August 24, 2017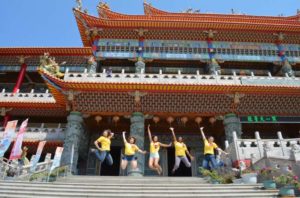 Remember when you used to go on "Field Trips" when you were a kid? You'd load the bus and you and your classmates would let loose at the local nature center or science museum. Truth is, it didn't matter where you went as long as you got to get out of the classroom. Best of all, you'd usually learn some pretty cool stuff. That's what the Global Classroom is all about, except on a way bigger scale. And exploring the world is a pretty good substitution for the Science Museum. This is one of the reasons why so many students – both high school graduates and college goers – take a semester to study abroad. It totally enhances your education.
Looking for more proof? Here are four ways that your extended "field trip" abroad will make your educational experience richer:
GLOBAL CITIZENSHIP
Yep, you're a citizen of your home country and guess what? You're also a citizen of our world, which makes you a Global Citizen. And with this fantastic new title, comes some fantastic responsibilities. When you travel abroad you will see things you've not yet personally experienced or only seen in books or movies. You will find yourself immersed in cultures and surrounded by people that may have completely different perspectives and needs than your own.
As you learn about the different issues facing these new societies, how will you react? We all want to make an impact with our lives and you may find yourself staring at a situation that will give you that opportunity. If you do, dive right in! This is experiential learning at its finest. No classroom or textbook will give you an education like that!
CULTURAL AWARENESS
One of, if not, the coolest aspects of traveling abroad is having the chance to learn about other cultures. There's nothing quite like visiting another country, meeting the people, eating their food, seeing how they live, and engaging in their cultural practices.
According to Tonio Gonzalez, a 4-semester Cast Manager with Up with People, it's always exciting to see new cast members visit countries for the first time. "At first they may not know what to make of some of the regional rituals and are unsure how to respond. And then by the time we leave a country, the same person has totally embraced everything about that country." In many cases, you'll find you may leave a country more aware of the nuances of both the local culture and your own.
In today's connected world, learning to explore and appreciate other cultures is an education that will set you apart!
HANDLING THE UNEXPECTED
Remember the old saying, "expect the unexpected"? Well, it applies here because when you travel abroad, you never know when the next lesson is lurking around the corner. What if you try to shake hands with somebody you shouldn't touch, wear clothes that don't cover enough skin, or mispronounce a word to make it mean something embarrassingly different than what you intended? These lessons can be surprising and maybe even a little awkward. Think of it as picking up some "street smarts", which is a good, practical and necessary form of education.
At Up with People, we have a series of questions we ask ourselves when trying to make sense of an unexpected situation on the fly:
What? What just happened?
Gut? What does my intuition or gut tell me about it?
So what? How do I make sense of this experience?
Now what? What can I learn from it?
When you follow this sequence of questions it gives your brain a second to settle down and collect itself and helps turn the uncomfortable situation into a learning experience.
If you want an example, check this out. Up with People alum Ericka Donovan says being able to adapt on the fly helped get her ready for a career in the U.S. Air National Guard. "The experiences of constant culture shock, stepping outside my comfort level, and pushing myself to make a difference has made my experience in the military so far that much more successful," she explains. "In my situation, Up with People helped set the stage for my career."
COMMUNICATING IN A FOREIGN LANGUAGE
You know how there are "immersion" schools for foreign languages today? Well, traveling abroad and spending extended periods of time in another country is like going to an immersion school, only better.
Not all countries will speak your native language and if you need food, water, or a place to go to the bathroom, you learn how to communicate in the local language in a hurry! No matter how many countries you visit, it's a good idea to learn some basic phrases in the local language before you go. It's a sign of respect and will open the door to building some great new friendships.
If you're traveling to a single destination for a long time, why not consider taking a language course in advance? Your next meal could depend on it! Chances are, you'll leave that country with a better understanding of the local language than you'd ever get in a traditional classroom — even at an immersion school!
No matter where you travel, the Global Classroom is a fun and exciting place to expand your education. You'll eat new foods, meet new people, and experience new cultures — and that's just in your first few days. Imagine how much more you'll add as you travel from country to country! So, pack up your bags, pull out your passport, and get ready for the "field trip" of a lifetime.
Topics:
Study Abroad
Up with People is a global education organization which aims to bring the world together through service and music. The unique combination of international travel, service learning, leadership development and performing arts offers young adults an unparalleled study abroad experience and a pathway to make a difference in the world, one community at a time. Click here to learn more about the internationally acclaimed program, Up with People.
Comment On this Blog Below: