Travel, Perform, & Volunteer
Explore the world, engage with communities, impact the world. Since 1965, Up with People has empowered young people to become global citizens, community change makers, confident performers, and discover their ability to promote positive change in our one of a kind global education program. Through our comprehensive program composed of the performing arts, volunteer service, travel, and leadership, we aspire to unite and inspire communities, spark others to think more broadly about their world, and forge connections among diverse cultures.
The Up with People Touring Experience
Up with People is so much more than the challenges that it presents to participants. It shows you how human you are, but then shows you how invincible you can be. It shows you how much more you can do as a human and it shows you how to embrace these challenges and conquer them. - Alexis, UWP Alumna
Young adults from all over the world travel abroad with Up with People for one or two semesters, beginning in January or July of each year. Each international tour embarks with nearly 100 participants, ages 17 – 29, from more than 15 countries. Each group travels to nearly 20 communities across a minimum of two continents each semester, typically spending one week in each city. Cast members live with a local host family, volunteer 8 – 12 hours in service projects, participate in 4 – 6 hours of educational workshops, and perform in Up with People's two-hour professionally produced musical production. Up with People also offers you the ability to earn academic credit during your travels.

Want a glimpse inside the tour? Check out our video series about life on tour and this sample schedule:
(Click to expand)
Monday - Travel

Travel to a brand new location every week: During travel time, you have the chance to speak with fellow cast members and to process your adventure so far. Upon arrival, the cast and host families meet for the first time and spend the evening together.

Tuesday - Community Discovery

Engage with your new host city: Community building begins as locals introduce your cast to the town, help you explore, and engage in a variety of activities such as presentations from local speakers and visiting sites of interest. UWP Educational workshops and discussions also connect the community experience to our global education instruction.

Wednesday, Thursday, Friday - Volunteer Service

Impact your community: The cast and community members volunteer side by side, working with schools and non-profit organizations to meet the specific needs of the city and its people. Afterwards, workshops will teach you how to identify any community's needs and the skills required to take positive action wherever your travels take you.

Saturday - Show

Connect with the community through performing arts: The cast spends a day as a team preparing for the public show. Each cast member supports all areas of the production, from stage set up to lighting, sound to costumes, all culminating with our international musical concert.

Sunday - Host Family

Bond with your host family: One of the most cherished days of the week, the Host Family Day provides the chance for a cultural exchange between you and your host family. Together you can explore the city, teach each other your customs, and forge a lifelong bond.
International Travel & Cultural Immersion
The fact that I was able to travel each week to a different city gave me a true feeling of embarking on a world tour. And since I was surrounded by 100 people from 15-20 countries, it really felt like I was traveling around the world WITH the world. - Michael, UWP Alumnus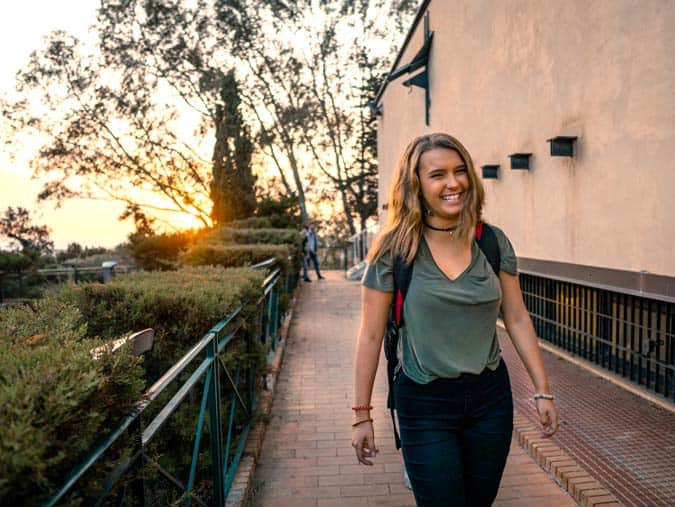 Prepare yourself to journey through 3 distinct regions of the world on at least two continents over a 6 month semester. You'll be immersed in new communities every week, live with local host families, and travel with an international cast who represent 15+ different countries.
Live with local host families for first-hand, cross-cultural exchange
The cast visits three distinct regions of the world during a six-month semester or full Gap Year
Cast represents 15+ different countries
I saw friends who said "I can't sing" get in front of hundreds of people and smile from ear-to-ear as they found their voice. I saw friends who said "I can't dance" bring an audience to their feet after dancing their way across the stage. - Nolan, UWP Alumnus
You don't need to have any performing experience to join our program! Each cast member participates in all areas of our musical show, both onstage and offstage. The self-confidence, problem solving, public speaking, and other skills you learn from performing remain invaluable wherever your journey takes you.
Spread messages of hope and positivity and connect with local communities
Professionally produced, high-energy, two-hour show
Opportunities for performing onstage as well as backstage tech
Songs, dances and costumes from around the world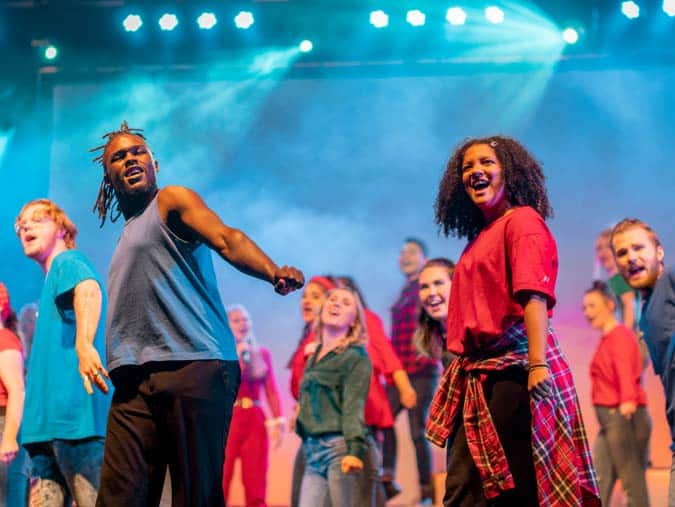 The community service may be hard work at times, but it's worth every second because you get to see the reality of the location you are in, not just the pretty sights, you get to feel like you're part of the community, and you get to be the hero who helps make it a little better. - Chip, UWP Alumnus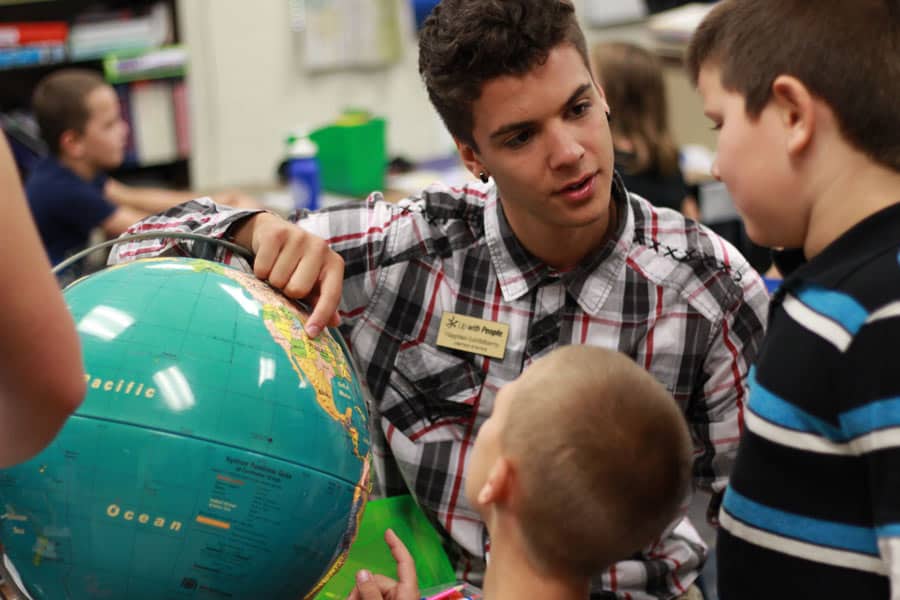 Up with People addresses local issues and makes a difference in every community we visit. Each week, you volunteer with schools and non-profit organizations to meet a community need and spark action in local community members that continue to make an impact well beyond your visit.
Volunteer work happens side by side with local community members
Engage in workshops after each community project to learn how to identify, understand, and act on the unique needs of each city you visit
Participants complete approximately 150-200 hours of community service per semester
Projects cover a wide range such as working with schools, the elderly, poverty, homelessness, the environment, and more
The skills and confidence I earned that year helped me decide the education path I wanted to pursue in college, and the career I chose after. I learned more with Up with People than a traditional formal education could ever provide. - Amy, UWP Alumna
Our global education program is based on a curriculum that brings key lessons to life through community exploration, interactive seminars, discussions, workshops, and hands on learning. Delivered in an experiential learning format, cast members leave their tour with a deeper commitment to life-long learning, with the tools and abilities to navigate the complexities of today's interconnected world.
Global Education Series researches and presents issues based on global perspective, topics ranging between the environment, human rights, poverty, gender roles, and more
Program includes experiential learning, internships and assistantships in cast operations, marketing, promotion, education, and more
Participants can earn 12-24 college credits for traveling with Up with People
Join a powerful network of 22,000 plus alumni worldwide who continue to be leaders in their fields and live the UWP mission every day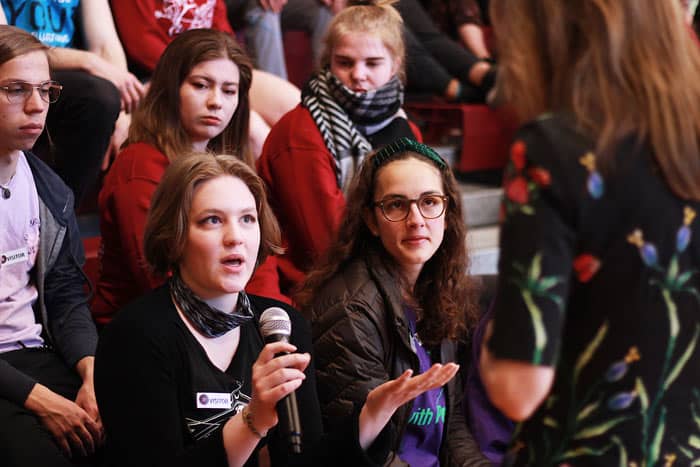 So what are you waiting for?
Join the cast today!