Since 2014, Up with People and Kiwanis International members have teamed up to achieve what one person cannot accomplish alone. Serving our communities, inspiring youth and expanding our impact in the world… that's what Kiwanis International and Up with People share. Up with People programs open a door to service and intercultural understanding—whether it's through a local show, leadership, and cultural workshops or providing service and travel experiences for young adults. Both organizations strive to 'serve the children of the world' and 'empower youth to take action' through our partnership.
---
GET YOUR CLUB INVOLVED
Sponsor a visit – UWP makes a great fundraiser and friend-raiser for your club!
Host a cast member
Volunteer with the cast
Entertainment for conventions
Workshops for conventions
Become a Promotional Partner
Support Circle K and Key Club Youth to impact the world through UWP
---
KIWANIS PARTNERSHIP BY THE NUMBERS
Since 2014, Up with People has partnered with Kiwanis Clubs from California to Bermuda, and in 2017 we are expanding our partnership to Europe and Asia. Check out the impact we've made together so far!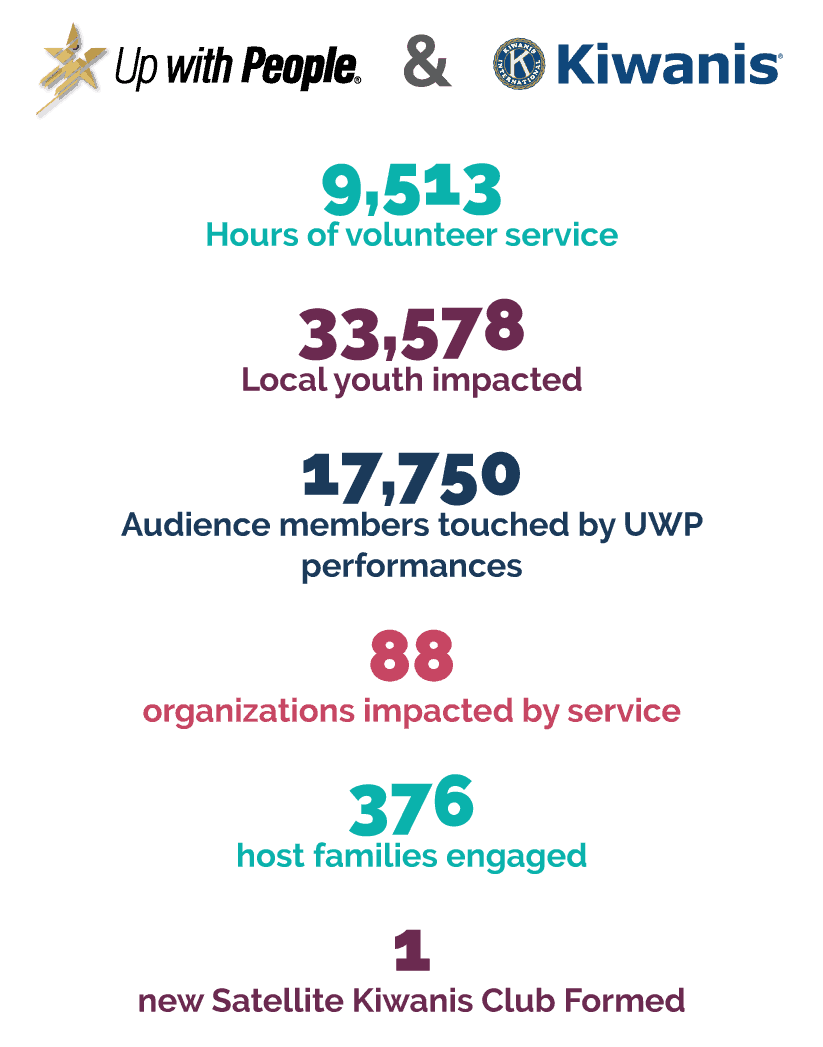 ---
CLICK ON EACH CITY, BELOW, TO LEARN MORE.
---
LEARN WHAT OTHERS HAVE TO SAY ABOUT THIS GREAT PARTNERSHIP!
Interested in learning more? Click here to tell us a bit more about yourself and your club and we'll be in touch soon!
---
ABOUT KIWANIS INTERNATIONAL
Kiwanis International brings the world together — one community at a time. Each community has different needs, and Kiwanis empowers members to pursue creative ways to serve the needs of children through local service projects and fundraising.
700,000 Members from Kiwanis International to Circle K, Key Club and beyond!
80 countries are home to Kiwanis Clubs
$100 million raised to serve communities, families and projects annually
150,000 service projects annually
18.5 million services hours per year
8,300 adult clubs
7,900 youth clubs
Learn More about the Kiwanis Family!
Find a Kiwanis Club Near You!
Up with People's Shipping Policy
For questions, contact us at shop@upwithpeople.org.