For 55 years, we have been bringing people together from different mindsets, cultures, ethnicities, and beliefs. We are proud to share these key moments in our history. They prove that by acting from a place of hope and optimism, we can unite countries, cultures, and communities—joining together to build an inclusive and sustainable world where people are equal in dignity and rights.
Images from Up with People Archive (MS 491), courtesy of University of Arizona Libraries, Special Collections
©Up with People
1960's
1970's
1980's
1980 – Performing with Symphonies around the world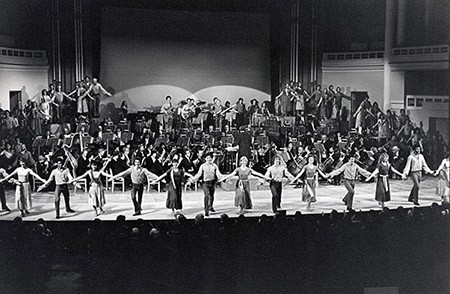 Up with People cast performs with the Belgian National Orchestra at Palais de Beaux-Arts in Brussels to celebrate the 150th anniversary of Belgium.
Other Performances include:
Up with People performs with the Tucson Symphony Orchestra in a combined concert, Jan. 29, 1978. This event began a tradition of Up with People performing with a professional orchestra
Up with People performance with the Dallas Symphony at the Cotton Bowl for a crowd of 20,000 in 1978
Up with People and the Denver Symphony Orchestra performed "in the round" at Boettcher Auditorium before a capacity audience of 2600 on Sept. 15, 1979. Encore performances were in 1981 and 1985
Performance with the Boston Popsat Hatch Shell, Boston, MA, USA in 1982
1984 – Performances for Four Popes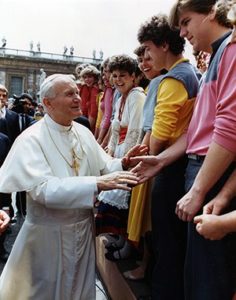 Did you know? Up with People casts have performed for four Pope's a total of 16 times!
Casts performed for Pope Paul VI three times in Vatican City from 1968 to 1973.
Casts performed for Pope John Paul II ten times from 1981 to 1999, including a performance at Piazza San Pietro, Ottawa Airport welcoming ceremony in Canada, and World Youth Day, Denver, CO, USA.
A WorldSmart cast performed for Pope Benedict XVI in June 2005
Casts performed for Pope Francis I twice in Piazza San Pietro.
Powered by HTML5 Responsive FAQ
1990's
1993 – World Youth Day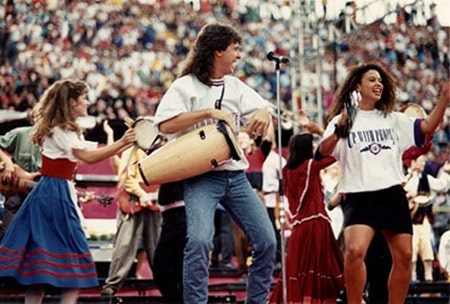 Cast performs for Pope John Paul II and for U.S. President Bill Clinton in Denver, CO for World Youth Day August, 1993
Up with People performs for World Youth Day in Rome in 2000 for an unprecedented second time.
1994 – Performing for National and International Events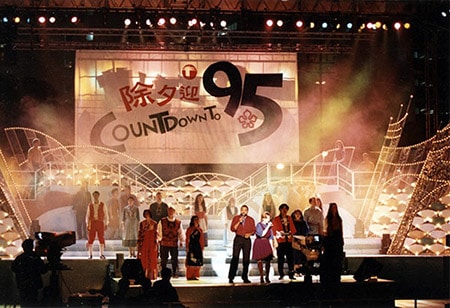 New Year Eve's 1994 in Hong Kong sponsored by the Urban Council and Hong Kong Telecom
Up with People has been invited to participate in many national and international events and celebrations around the world, including:
National Scout Jamboree for 34,000 Boy Scouts in 1969
National 4-H Congress in Chicago in 1967
Performances in in 771 cities in 48 states for 3.9 million people during the Bicentennial tour of the United States in 1975-76
Belgian National Orchestra at the Palais de Beaux-Arts in Brussels in 1980 to celebrate Belgium's 150th anniversary.
During the week of July 4th, 1991 casts perform in front of the Washington Monument, Washington, DC; in front of the USS Constitution in Boston, MA; at the Freedom Festival in Philadelphia, PA at Folsom Stadium in Boulder, CO and at Texas Stadium, Dallas
During Taiwan's National Day for the President of Taiwan in a televised celebrations in Taipei in 2012
United Nations' Rio+20 Earth Summit in 2012
Additionally, Up with People participated in international sporting events including:
Munich Olympics (1972)
Halftime Performance at Canadian Football League Western Conference Final in Edmonton on Nov. 19, 1978
Annual White House Annual Easter Egg Hunt (1983)
Performance for the National Sports Festival in Colorado Springs, CO, sponsored by the U.S. Olympic Committee (1982)
Performed as part of the opening ceremonies at the International Special Olympics Games at Louisiana State University, Baton Rouge. (1983)
Performance at the Opening and Closing Ceremonies of the International Summer Special Olympics World Games, South Bend, IN (1987)
Atlanta Olympics – Coca Cola Pavilion (1996)
Powered by HTML5 Responsive FAQ
2000's
2000 – A Common Beat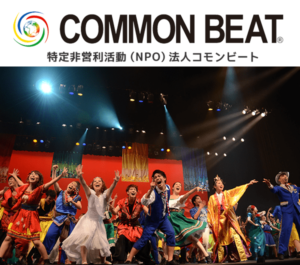 In 2000, Up with People's newly developed show called " A Common Beat" makes its world premiere in Detroit, Michigan. After the show toured for a year, Up with People suspended operations. The show was licensed to NPO Common Beat, and in 2004 "A Common Beat" premieres in Japan.
Since its founding, NPO Common Beat has performed in Tokyo, Osaka, Nagoya, Fukuoka, and Ishinomaki in Japan, in Seoul, South Korea, and at Up with People Reunions in Tucson, AZ, USA and Orlando, FL, USA.
To learn more about NPO Common Beat visit commonbeat.org
2008 – Parades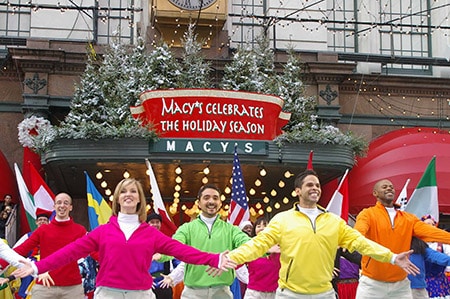 Up with People produces and performs in the Opening Ceremony of the 119th Tournament of Roses Parade in Pasadena, CA, January 1, 2008 and performed again in the opening ceremony in 2011.
Up with People also was the featured performers at Macy's Thanksgiving Day Parade 1986 and again in 2007.
Powered by HTML5 Responsive FAQ
2010's
2014 – Visiting Places of Consequence
Just like when Up with People made its first visit to the People's Republic of China in 1978, becoming the first multi-national youth group to visit the country in 29 years, casts continue to visit places of consequence.
Casts in 2014 made Up with People's first visits to Israel and Cuba. In June 2014 Up with People made history by performing in Ramat Gan, Israel during a tense time in Israel's history for an enthusiastic audience of 1,500.
At the invitation of the Ministerio de Cultura de la República de Cuba Up with People made history again by performing in Havana for the first time on Oct. 24, 2014. The Cuban US Minister to the Mission in Cuba said "Never before has Cuba experienced 15 nations, including American's, performing together."
2015 – Celebrating a Milestone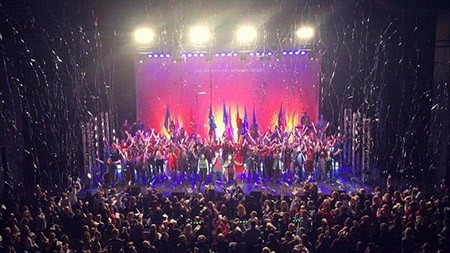 Up with People launches 50th Anniversary tour with special events in Denver, Tucson, Orlando, Mexico City, Brussels, and Rome.
Click here to watch "The Journey" performance at the 50th Reunion in Orlando.
2015
Up with People performs for Pope Francis and 70,000 people in St. Peter's Square
2016
Up with People launches Up with People Jr. , an arts-based day camp experience for 8-12 year-olds
2017
Up with People performs with Andrea Bocelli at Teatro del Silenzio, Lajatico, Italy
Up with People performs for former Mexican President Vincente Fox in Denver, CO
Up with People returns to Rome, performing on the Spanish Steps and a third time for Pope Francis
2018
First tour of the Republic of Kosovo
2019
Up with People returns to Ottawa, Ontario for the first time in over a decade
2020
Tour suspension due to Pandemic
300,000 youth engaged in the last 5 years
2016 – Working with Youth from Around The World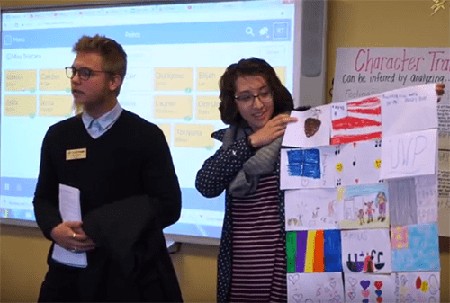 Up with People works with youth in every city we visit. The majority of this interaction happens in schools, as we present classroom workshops on appreciating diversity, share our cultures by hosting booths at a "Culture Fest", and/ or perform a shorter version of our show. We also partner with after school programs and youth service clubs to support the work they are already doing to engage youth in their communities.
2017 – Impacting Communities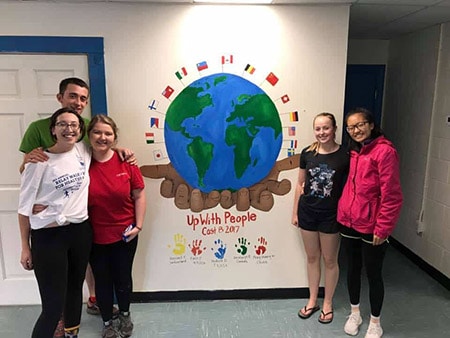 Since the early years of Up with People, casts have been volunteering throughout their tour. Since our beginning cast members have completed over 3.1 million hours of service in communities around the world.
Click here to read more about UWP's community action projects.
2018 – Visiting New Places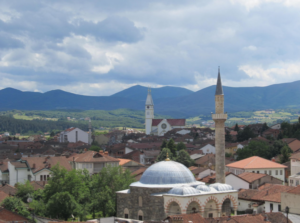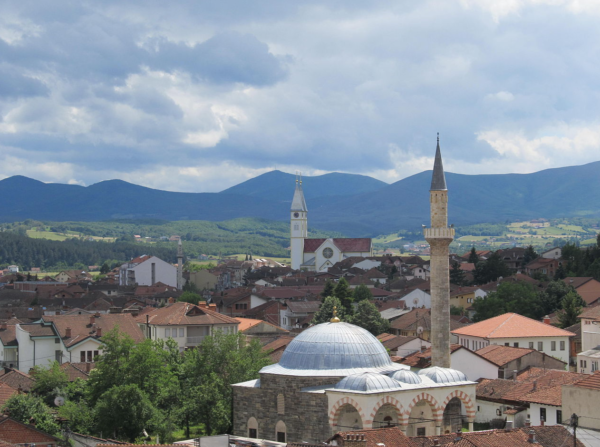 In 2018, Up with People visited Kosovo for the first time in the organization's history.
The cast was joined by an IMPACT program, and together the participants spent a week doing hands on volunteer work and community discovery in collaboration with local partners.
In 2019, UWP returns to Canada for the first time in a decade. While in Ottawa, the cast served 2,000 hours of volunteer service.
Powered by HTML5 Responsive FAQ
The Archives
Up with People's rich and expansive history is captured in an archive housed at the University of Arizona Libraries, Special Collections. The collection contains a range of materials from photographs and print publications, to scores, musical arrangements, and programs from 1965-1999. Learn More
More Resources
---
Up with People's Shipping Policy
For questions, contact us at shop@upwithpeople.org.