Our vision is an inclusive and sustainable world where people are equal in dignity and rights.
---
MORE THAN 50 YEARS OF IMPACT
Not only do we serve our mission through the activities of our international touring casts, but many of Up with People's 22,000+ alumni continue to make a positive difference in the world long after their tour has ended. The lessons learned during the Up with People program – to act as global citizens and be positive voices for change – often influence our participants throughout their lifetimes. We are proud to share the stories of our alumni who continue to live out the Up with People values and ideals today.
---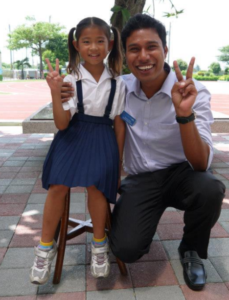 BIJEYSH RANJIT ('11A)
Bijeysh Ranjit ('11A) is a native of Nepal and the co-founder of the organization SAATH, which stands for Social Service Awareness-Raising & Advocacy for Tranquility & Humanity. The organization supports at-risk populations in Nepal and has been instrumental in helping Nepal rebuild after the earthquake in April 2015. Together with fellow alumni Charlotte Mellkvist ('10B) and David Geiser ('10B), they launched the Together We Rebuild fundraising campaign to assist rural communities that remained without basic needs.
Bijeysh's commitment has inspired international fundraisers, including one organized by his Up with People family in Denver. You can find out more about SAATH by visiting www.saath.org.np.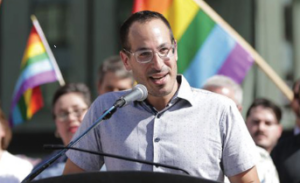 RYAN LYMPUS ('96C)
In the early morning hours of June 12, 2016, a crowded nightclub in Orlando, Florida was the scene of the deadliest mass shooting in U.S. history. Forty-nine people were killed and fifty-three were injured as they danced with their friends and family at the Pulse Nightclub. That day, Ryan Lympus ('96C) knew he needed to channel his shock, anger, and sadness into action.
As Assistant General Manager of El Paso Live, El Paso Convention and Performing Arts Centers, Ryan had the capacity to reach the community of El Paso, Texas and spark them into action. On the day of the shooting, Ryan assembled El Paso community leaders to participate in a press conference to publicly react to the tragedy in Orlando and show the city standing together to condemn violence and offer support to the people of Orlando. Ryan asked himself, what can I do? He realized that one of the best responses to this tragedy was for all of us to keep dancing... and "Dance for Orlando" was born.
Ryan helped organize and promote "Dance for Orlando" events occurring throughout the month of June to raise funds benefitting the shooting victims and their families. Ryan wanted to use dance as the vehicle, whether it be alone in your living room, in a dance class, a nightclub, or a Zumba class at the gym. He was inspiring his community.
Ryan ordered 2,500 "Dance for Orlando" bandanas to sell as a symbol of solidarity. He reached out to the owners of bars and nightclubs throughout the city to offer drink specials to raise money and sell the bandanas. Bandanas were also sold during Pride Night at the El Paso baseball game. What a better time to get the crowd to dance than during the 7th inning stretch?
Ryan's story is an inspiring reminder how all of us should continue to channel our Up with People selves, and bring our communities together to do good works. Ordinary miracles are happening all around – and, as 22,000+ alumni of Up with People, we've got the power to make them happen.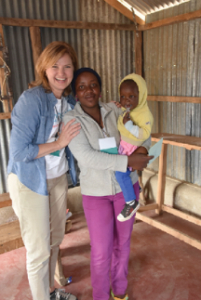 LAURA SIEGFRIED TOSHIE ('83A)
Laura Siegfried Toshie ('83A) recently returned from a trip to Naivasha, Kenya, working with Panua, a program which helps orphans and vulnerable youth move from a life of hopelessness and poverty, to self-sustainability. Orphaned youth in the Panua program are the acting heads of their households but have been left without an education or vocational skill to sustain them. Through Panua, they are guided through their grief and are supported as they learn a vocation.
As part of the three-year program, they gain practical experience through internships and receive funding and equipment to start their own business so they can provide for their siblings. Laura was working with American and Kenyan staff to celebrate the graduation of the latest group of 160 students and began processing the incoming group of the newest 200 Panua students. Her efforts are truly an inspiration!
FRED MELTON ('73A)
Fred Melton ('73A) has done humanitarian missions using his dentistry skills in Egypt, Vietnam, and Afghanistan, and was on another such trip in Nepal in April 2015 when a devastating earthquake hit. After doing whatever he could to help at the time, he vowed to return so that he might provide further aid to those in need.
In January 2016, Fred and his fellow cast mate, Coy Theobalt ('73A), traveled 40 hours to Dhulikhel, Nepal which is about 20 miles from Kathmandu. They brought with them several specially-constructed tents to help in the rebuilding of small Nepalese communities. The tents serve as temporary school classrooms until a new school can be built – once funds and resources become available. Upon their return home, they started preparing a return to build an operating room and outfit it with good equipment.
Both Fred and Coy became inspired by Up with People's 50th Anniversary Reunion in 2015 and created their own cast challenge called "I Will—Cast A1973 DOES!" Cast members are encouraged each month to share just one action they've taken in the preceding month to make a difference in their communities, nation, or the world.