Click here for a printable version of this page
Partner to Make an Impact: Our Week-Long Programs
Passionate about affecting change where you live, work and play? Let Up with People provide a platform for impact in your community to help you achieve your marketing and philanthropic goals while meeting your community's needs!
Wrapped up in a month-long promotional campaign supported by local media partners, we'll help you reach new audiences and position your brand in alignment with Up with People's 50+ years of goodwill and community building. We'll communicate your passion and dedication to community whether your objectives are to energize and inspire youth, feed the hungry, beautify the environment, engage the elderly, or address needs of the homeless, our service is as diverse as the 30+ communities we serve globally each year.
---
Why?
As best-selling author Simon Sinek suggests, let's start with 'Why?' Why should I partner to bring Up with People to my community?
Because you are…
A leading organization with a firm commitment to community
Interesting in enhancing your reputation by aligning with a positive global brand
Innovative in your approach to community building
Dedicated to inspiring your employees or members
Passionate about affecting change
Dedicated to impacting the lives of youth
Inspired by the power of young people to make change
Aware of the benefits of a global perspective
The spark that ignites the flame in people to make a difference
Because we are…
A leading global brand with a powerful reputation
Recognized for our deep impact on communities across the globe
A leading voice for empowering youth to be positive agents of change in the world
---
How?
How can Up with People support me in achieving my marketing and philanthropic goals? Our impact speaks for itself: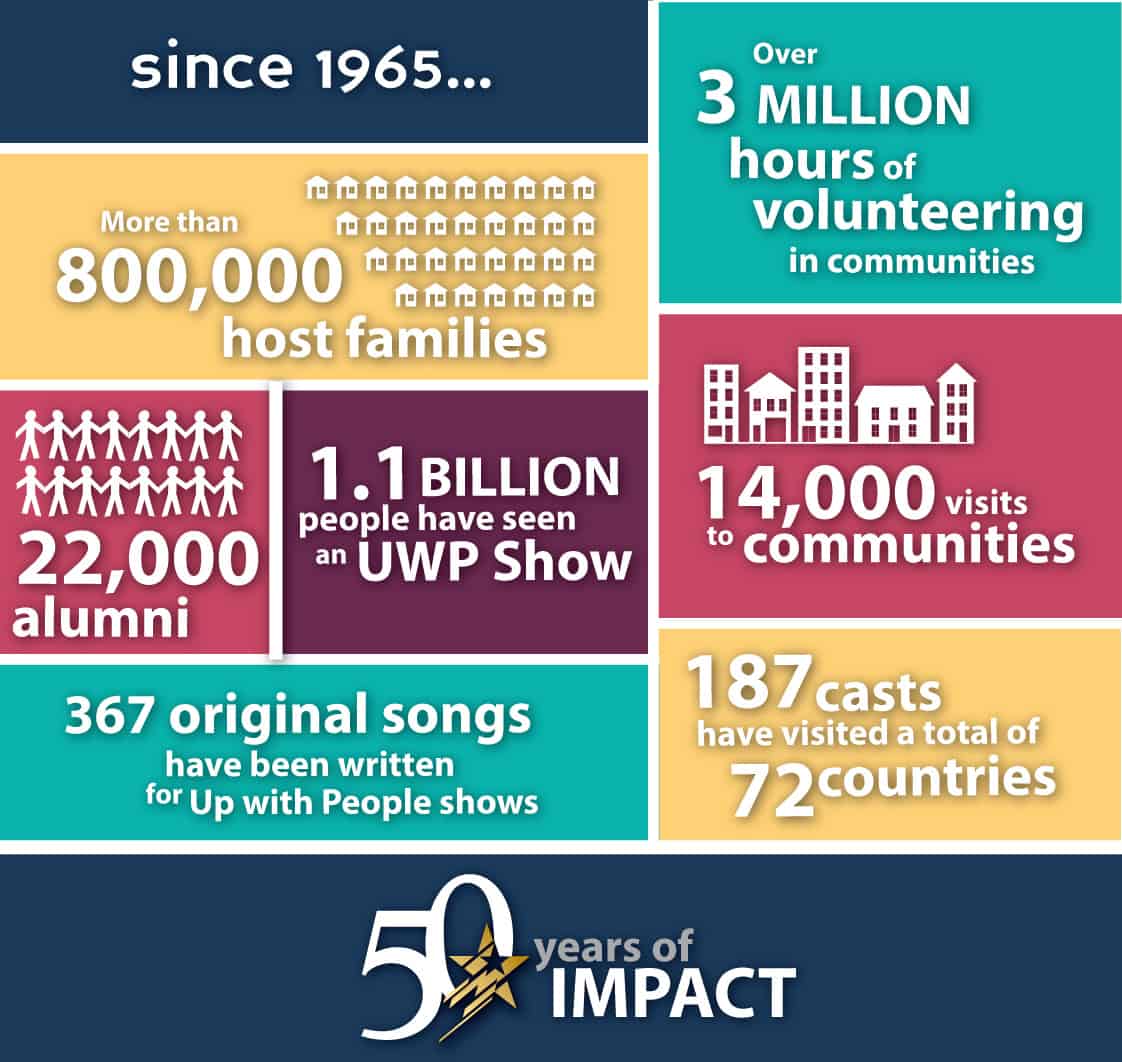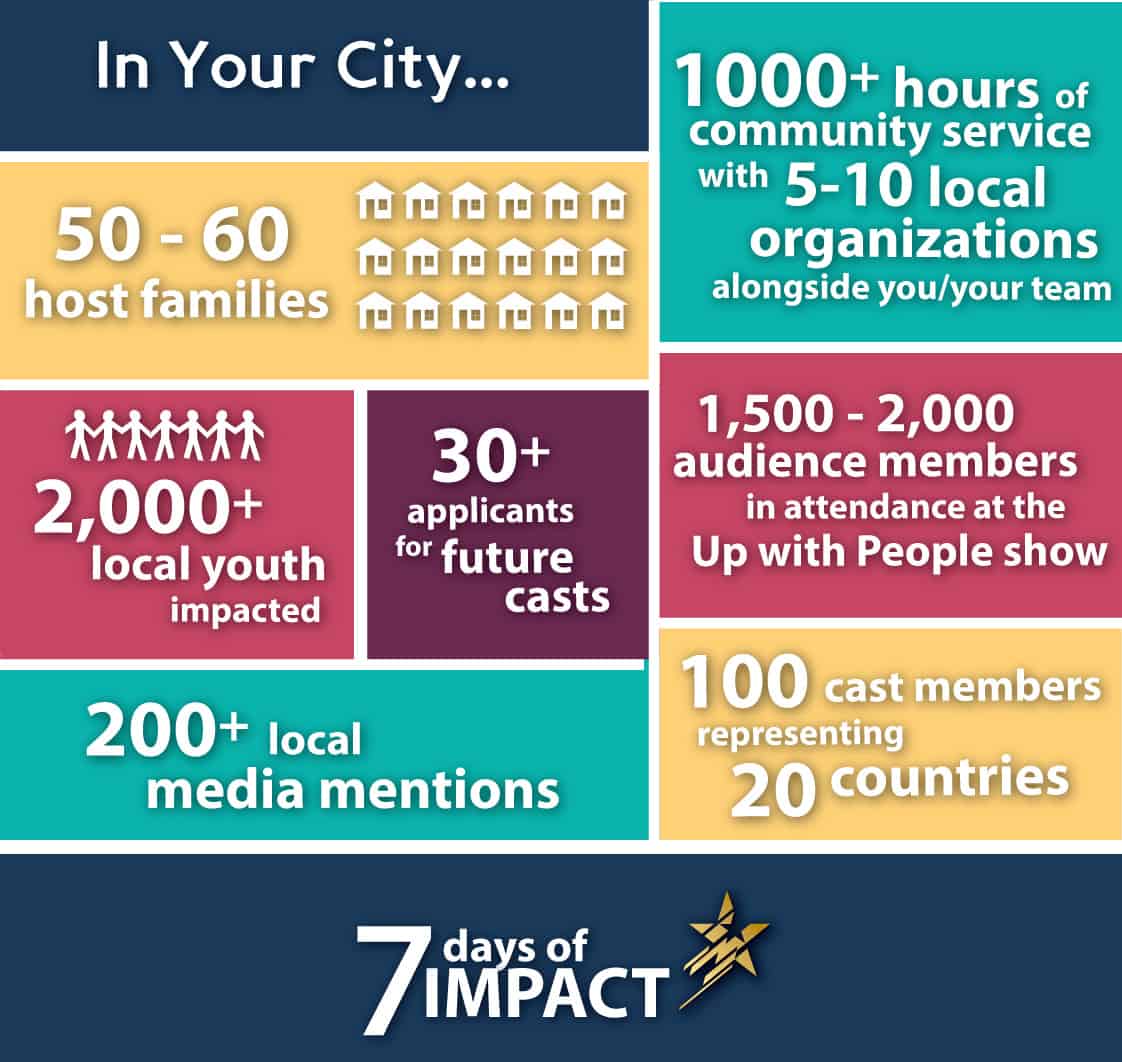 ---
What?
What are the next steps in partnering with Up with People to impact my community?
Up with People tours a different region of the United States, Europe and Mexico every six months. Diverse markets outside of these regions are added regularly. Plan ahead to get your city's impact program on the schedule!
---
18 Months Out:

UWP announces tour regions Connect with Regional Sales Office

12 Months Out:

Make deposit and book a venue to put your city on the schedule and begin building your impact program!

8 Months Out:

Work with UWP Sales Team to set goals and identify community needs

6 Months Out:

UWP Sales & Tour Team works to confirm media partners and continue building connections with your community

3 Months Out:

UWP Tour Team finalizes plans for PR Team to arrive and continue shaping the media campaign and community impact schedule

1 Month Out:

UWP PR Team arrives to implement PR & Media campaign and finalize plans for UWP's week-long community impact program!

UWP Cast Arrival

UWP Cast arrives to your city to implement your week of impact
---
Partnership Benefits:
Your integrated partnership with Up with People includes a robust suite of benefits, including:
Tickets
Media exposure
Logo recognition
Beneficiary selection
Community service & volunteer opportunities
Social media exposure
A fully executed promotional campaign led by the Up with People promotion team
Whether you're interested in getting employees involved with civic endeavors, fundraising for a cause close to your heart, leveraging your businesses' community presence or simply providing inspiration and hope, let us be part of your efforts to build a stronger community. We will build a customized community impact program to meet your specific marketing and philanthropic goals. Partnership levels and benefits vary by market. Click here to be connected to an Up with People Representative who can assist in customizing your experience and answer your questions.